Miracle Munch flapjack oat bar
Buying flapjacks, look no further high quality flapjack range wont disappoint. We offer five deliciously wholesome granola / flapjack bars. Our plain flapjacks a glorious combination of pure butter with soft brown sugar and healthy jumbo oat flakes. Classic Style & Taste. Our fruit flapjack Full of flavour and texture with the inclusion of our special blend of fruits. Our milk chocolate Flapjack - Original plain flapjack generously smothered in a thick layer of high quality milk chocolate. Our dark chocloate flapjack - Original plain flapjack smothered in a thick layer of quality dark chocolate. And finally our Miracle Munch granola bar a delicious snack filled with oats, nuts, seeds and our special trail mix. Our flapjack range are all wheat-free and are a healthy and wholesome snack or treat any time during your day. Our flapjacks wont disappoint, delicious as food should be. We at Stable Diet only us the finest natural ingredients in our granola and our flapjacks. Our flapjacks are available to buy online from our website, cafe in Wexford Town or from our bakery in Broadway, Wexford, Ireland.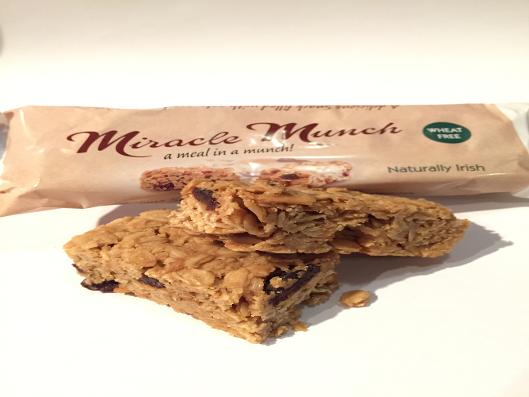 Miracle munch oat bar
A delicious snack filled with oats, nuts, seeds. Trail Mix includes Banana chips, Almonds, Coconut, Raisins, Cashew Nuts and Sunflower Seeds.
Ideal for eating on the go, if you missed lunch this is a meal in a munch! Packed full of slow release Energy.
All our Flapjacks are Wheat-Free.
Buy Flapjacks Direct or Buy Flapjacks from our online Store.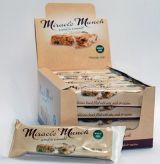 About us
Stable Diet is a privately owned Irish food company renowned in the Irish market for our tasty, wholesome wheat free products that include our award winning Granola toasted breakfast cereal, porridge and flapjacks.

Our company's philosophy has always been that nature knows best. All of our food products are based on traditional recipes using natural ingredients and we prides ourselves on a reputation for quality and authenticity.
Now our thriving food company operates from a modern premises located on the grounds of the old farm. The aroma of freshly baked product greets you as you enter the restored courtyard of this eighteenth century farm. All our main retail products are wheat free: Our Granola, Flapjacks and Porridge. Our highly trained staff take great care and as a team, we continue to develop innovative food products that reflect our philosophy and idyllic natural surroundings.
We produce and sell wheat free Flapjacks, Granola Breakfast Cereal and Porridge. We also Produce Cakes, Jams, Chutney, Preserves, Cookies and Oaties. Some are available to buy online, it is possible to buy most of our range from our coffee shop in wexford. You can also contact us for more details on buying our products or more information on our product ranges for sale. Just go to our contact page for more details.
All of our products are proudly handmade to the highest quality standards at our bakery in Broadway, Wexford, Ireland.