Stable Diet Cafe100 south main street wexford town
Y35 EE78
Open Monday - Saturday 8:30am - 5:00pm Phone:053-9149012
We put our hearts into what we do here in Stable Diet Cafe. We take great pride in the fact that all of the food we serve is made here in our kitchen and in our bakeries in Yoletown. Our aim is for you, our customer to enjoy your Stable Diet experience of the best quality food and drink served in our cosy friendly environment.
Breakfast (8:30am - 11:45am)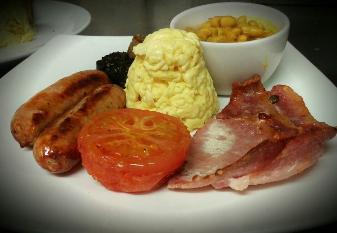 Brioche French Toast with Wexford Bacon & Maple Syrup (2,4,7,14)
'Brie Brioche' French Toast Two slices of Brioche French Toast with a Melted Brie Centre and Maple Syrup (2,4,7,14)
Homemade potato cake served with Smoked Salmon and pouched egg (2,4,14)
Simply Special Beans on Toast (2,5,9,13,14)
Poached or Scrambled Eggs on Toast (2,4,7) served with Smoked Salmon (5) or Parma Ham (14) or Bacon (14)
Bacon, Egg and Grilled Tomatoes served with our Multigrain Toast (2,4,7,9,14)
Filled Baked Croissant Filled with Bacon, Tomato and melted Cheddar (1,4,7,9,14)
French Omelette your choice of fillings served with Grilled Tomato and Toast (2,4,7)
'Full House Breakfast' Saucy Butcher Turkey Sausages, Wexford Bacon, Black and White Pudding, Simply Special Beans, Egg and Toast (2,4,7,9,13,14)
'Scone Witch Breakfast Special' Savoury Scone with Filling/Topping (2,4,7,10,14) See Specials Board or Ask Server
Stable Diet Granola with Yoghurt and Fresh Fruit (2,7,10,12,14)
Stable Diet Yola Porridge with Honey or Maple Syrup (2,7,10,12)
Fresh Fruit Salad with Yoghurt (7,14)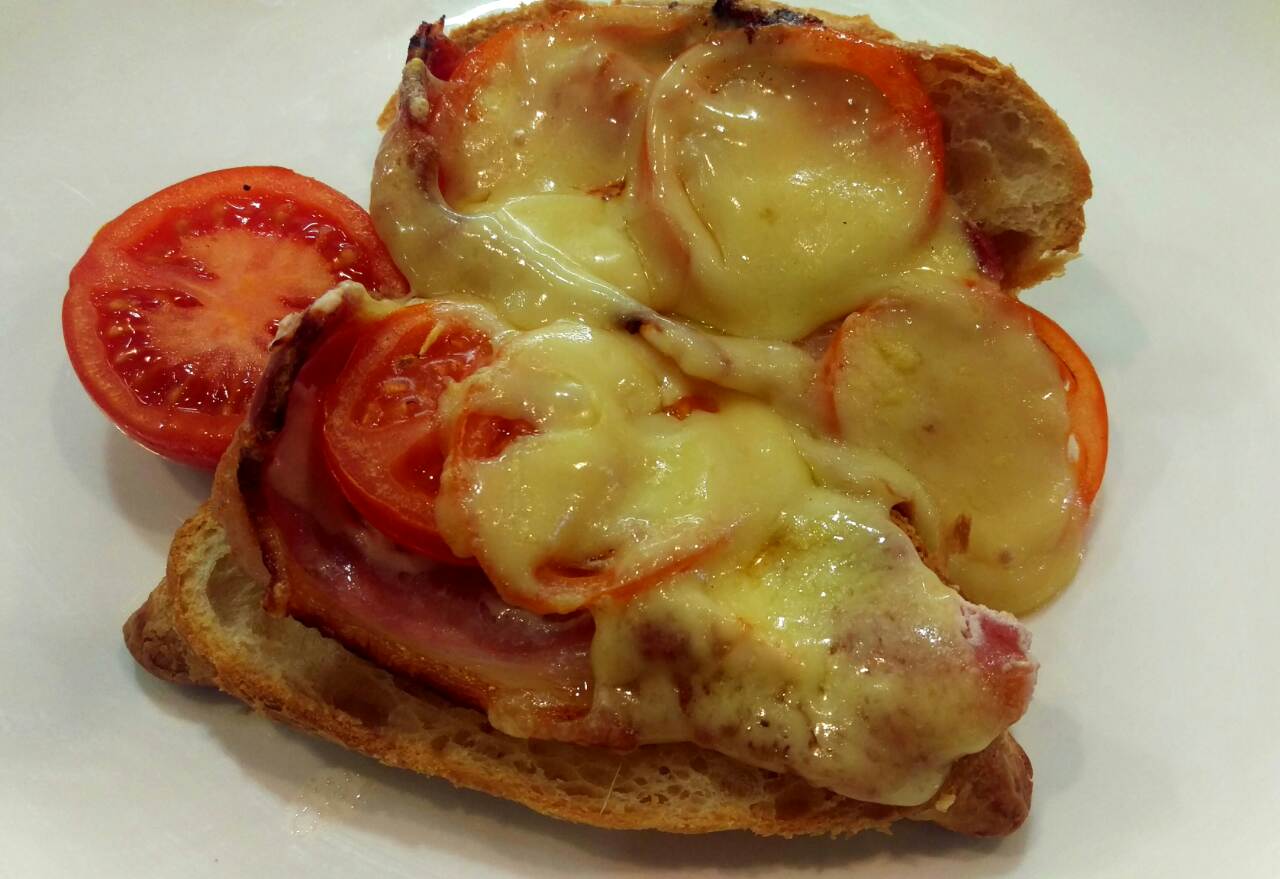 Lunch (12:00pm - 3:00pm) Monday-Friday (3:30pm) Saturdays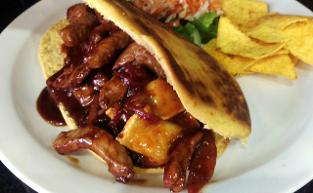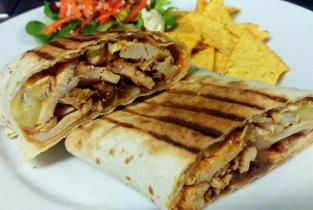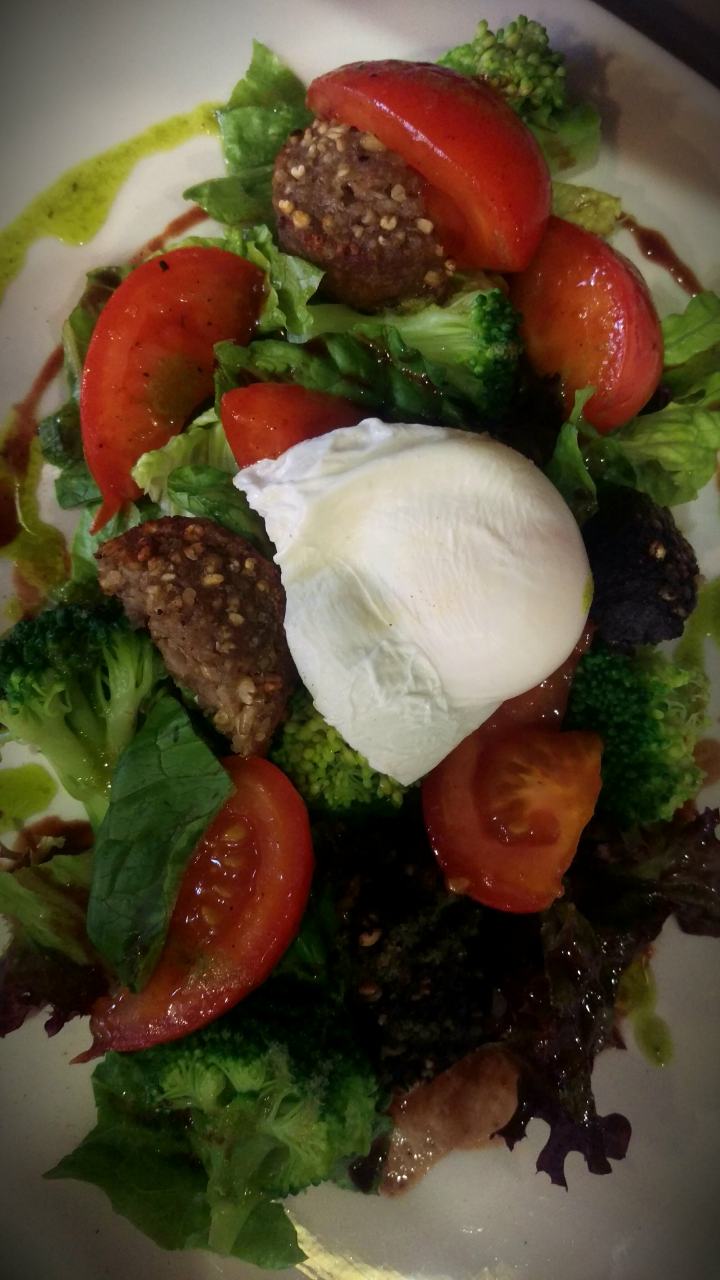 Soups, paninis & wraps
Our delicious Soup of the Day is served with our own Brown Bread,Multi Grain Bread or Savoury Scone. Gluten Free Bread also available
Oven Baked Chicken Tikka, Caramelized Onion and Red Cheddar Cheese Toasted
Moroccan Wrap (1,2,10,11,12)
Peppery Rocket Leaves, Roasted Vegetables, Plum Tomato and Hummus Served in a Lightly Toasted Wrap
Firecracker Panini (2,4,9)
Sticky Zesty Chicken, Roasted Red Peppers and Cheddar Cheese with Chilli Mayo Toasted in a Crisp Panini
Stable Diet Duck Wrap (2,4,9,13,14)
Shredded Duck, Mango, Plum Tomato and HoiSin Dressing served in a Toasted Wrap
Chicken Caesar Wrap (2,5,7,9,13)
Grilled Wexford Bacon, Poached Chicken Fillet with Caesar dressing in a lightly toasted wrap. Dressed Crisp Lettuce, Juicy Plum Tomato and Parmesan shavings served on the side
Tuna and Caramelized Red Onion Wrap (2,5,7,13)
Lightly Toasted with Wexford Red Cheddar and Caramelized Red Onion
Stable Diet Brochette (2,7,12,14)
Cherry Tomatoes, Fresh Basil, Garlic, Grilled Par-ma Ham on Stable Diet Multi Seed Bread With Mozzarella Cheese.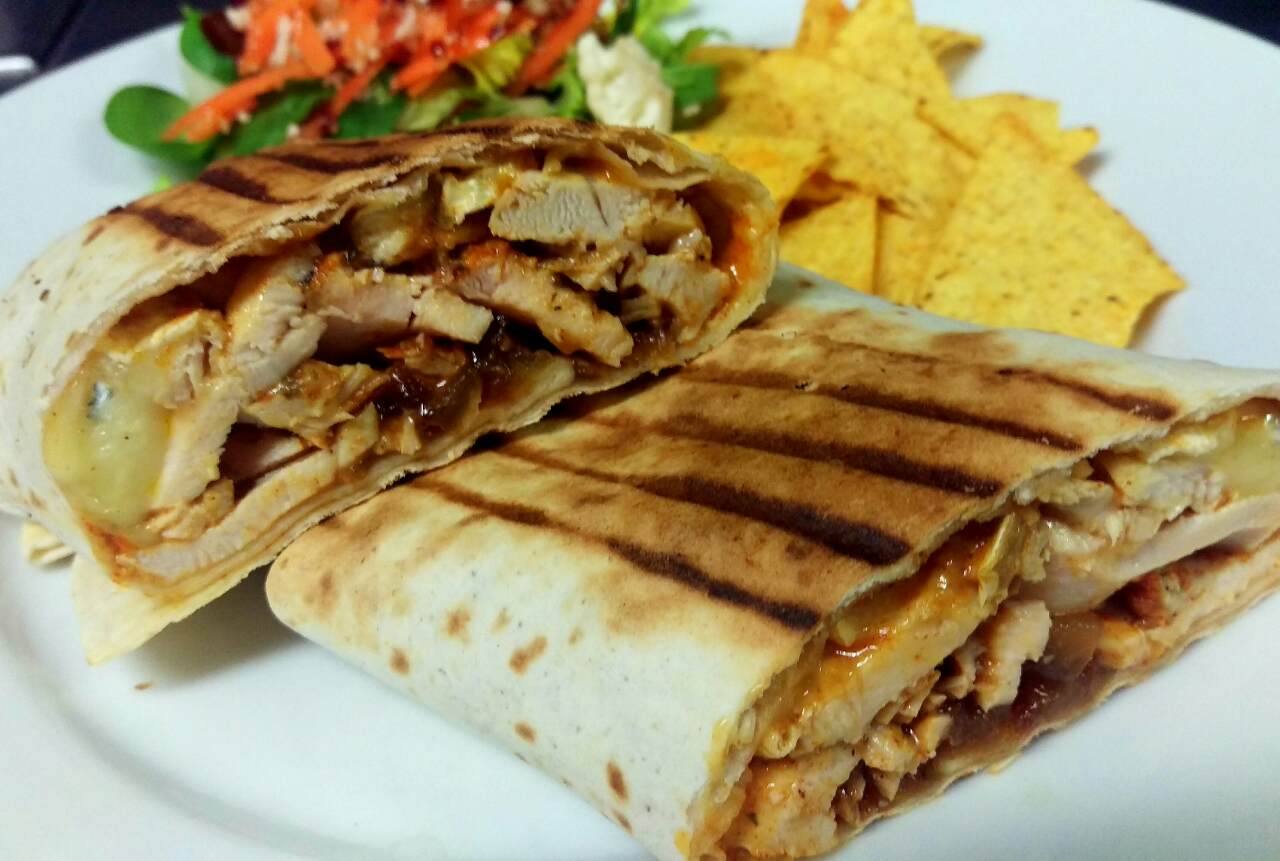 Sandwiches & Focaccia

Parisian Sandwich (2,4,7,9,10,12,14)

Baked Ham, Boiled Egg, Swiss Cheese served with Crisp Leaves and Light Mayonnaise on Triple Grain Bread
Ultimate Chicken Sandwich (2,4,7,9,10,12,13,14)
Chicken and Bacon with Tomato and Lettuce served with Light Mayonnaise on our very own Multi-Grain Bread
Sizzling Wexford Beef strips with Onion cooked in our Secret Sauce, topped with melted Brie Cheese and served in a Grilled Focaccia
Sticky Zesty Chicken Focaccia (1,2,7,13,14)
Juicy Marinated Chicken, Caramelized Red Onion, Sun-dried Tomato and Wicklow Blue Cheese in a grilled Focaccia Bread
Spiced Chicken Flatbread (2,4,7,9,12,13,14)
Lightly spiced Cajun Chicken, Red Onion, Jalapeños and Avocado served on Garlic Focaccia Served with Stable Diet Sweet Pepper Relish
Wexford Beef Strips with Onion cooked in our special sauce, topped with Melted Brie Cheese served in Stable Diet Focaccia Bread
BBQ Pulled Beef with Red Onion Chutney and Blue Cheese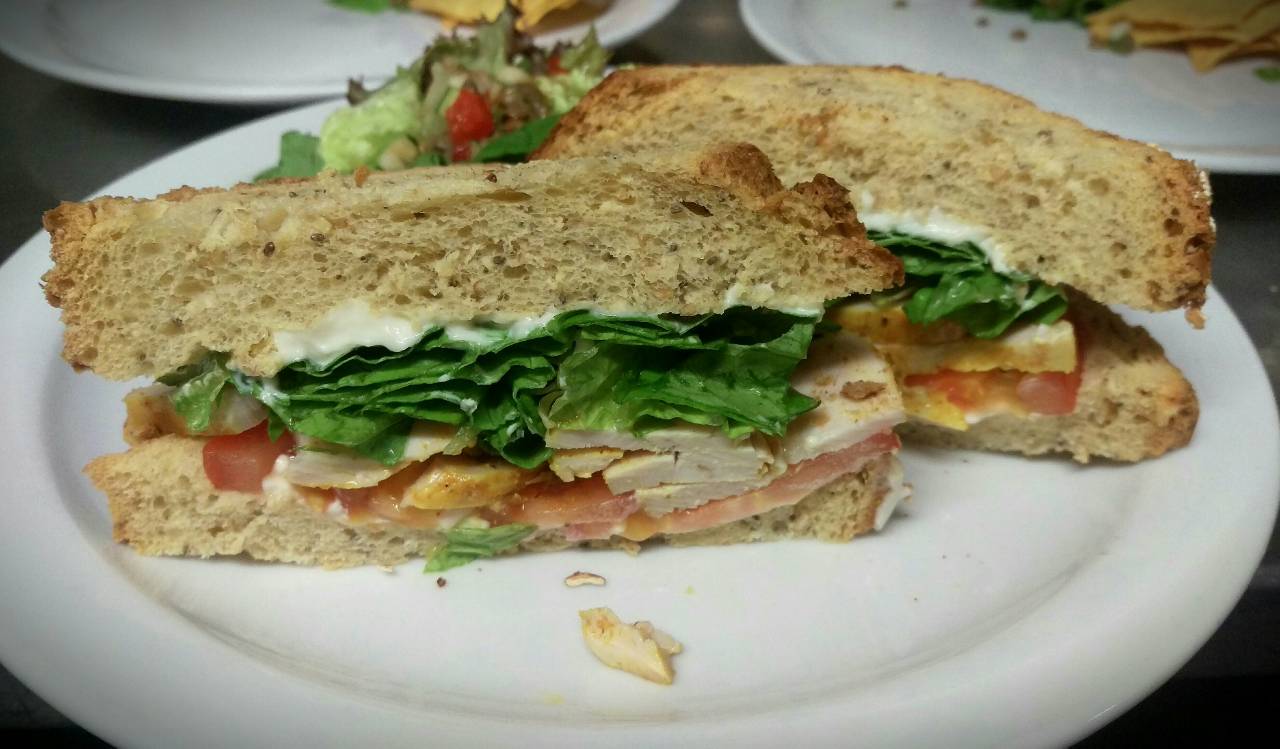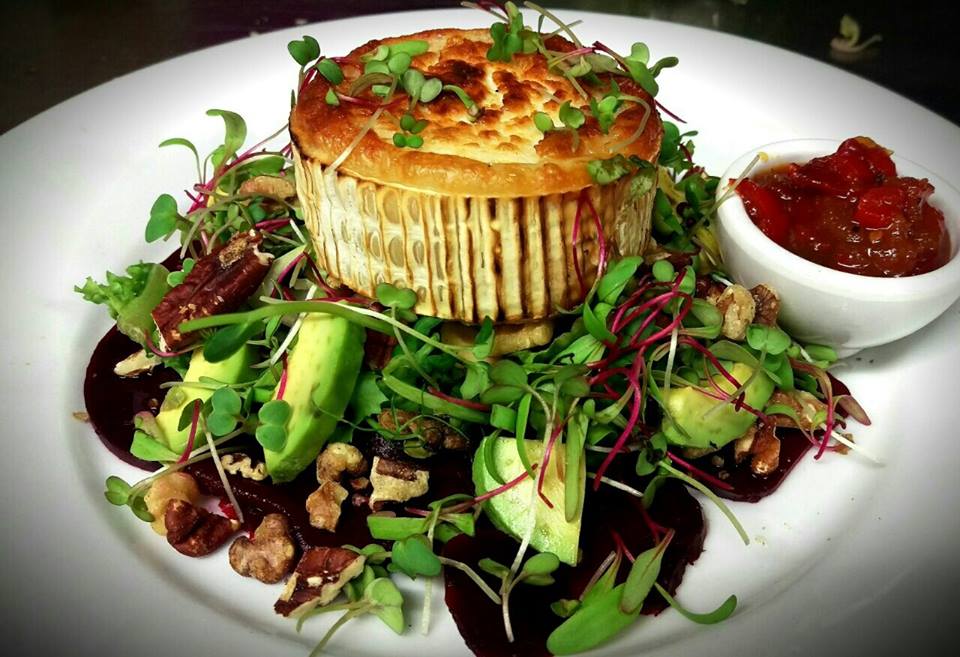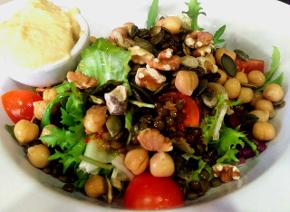 Salads
Honey Glazed Goats Cheese (7,9,10,13,14)
Honey Glazed Goats Cheese, Toasted Nuts, Beetroot, Crispy Bacon and Balsamic dressed Mixed Leaves
Cajun Spiced Chicken Fillet, Sun-dried Tomatoes and Red Onion served with dressed Salad Leaves
Chicken and Mango Salad (2)
Marinated Spicy Chicken, Fresh Mango, Plum Tomato, Crispy Salad with balsamic dressing
Artichoke and Feta Cheese Salad (2)
Artichoke, Roasted Peppers, Feta Cheese, Sun-dried Tomato Dressed with chili lemon oil salad
Sweet Chili Chicken and Egg Noodle Salad (2,4)
Sweet Chili Chicken with Red Peppers, Crispy Onion and Egg Noodles served on a bed of baby gem lettuce
Moroccan Lentil Salad (10,11,12,13)
Steamed /spiced Lentils, Chickpeas, Cherry Tomato, Coriander and Toasted Nuts & Seeds with Dressed Salad Leaves. With Optional Lemon Baked Chicken (10,14)
Sea Shanty Salad (3,5,8,14)
Smoked Salmon, Flaked Smoked Mackerel, Plum Tomato, Diced Mango and Black Olives with Salad Leaves and a Lemongrass, Chilli and Lime Dressing
The Classic Caesar (4,5,7,9,13)
Tender Chicken Grilled Bacon and Sun-dried Tomato





All Day Serving (8.30am - 5:00pm)
Pastries, Cakes and Cookies (served all day)
Stable Diet Scone (2,4,7,10,14)
Cake Slices, Tartlets and Tray Bakes (2,4,7,10,12,14)
Hot drinks
Chilled juices and drinks
Ballycross Juices - Apple/Blackcurrant, Apple/Carrot, Apple
Lorina - Traditional Lemonades
Fruice - Orange Juice
Water - San Pellergrino Sparkling and Aqua Panna Still
Tea
Suki Tea
Espresso
Americano
Cappuccino
Latte
Flat White
Mocha
Add Syrup
Add Extra Shot
Belgian Hot Chocolate... Large with Mallows & Sauce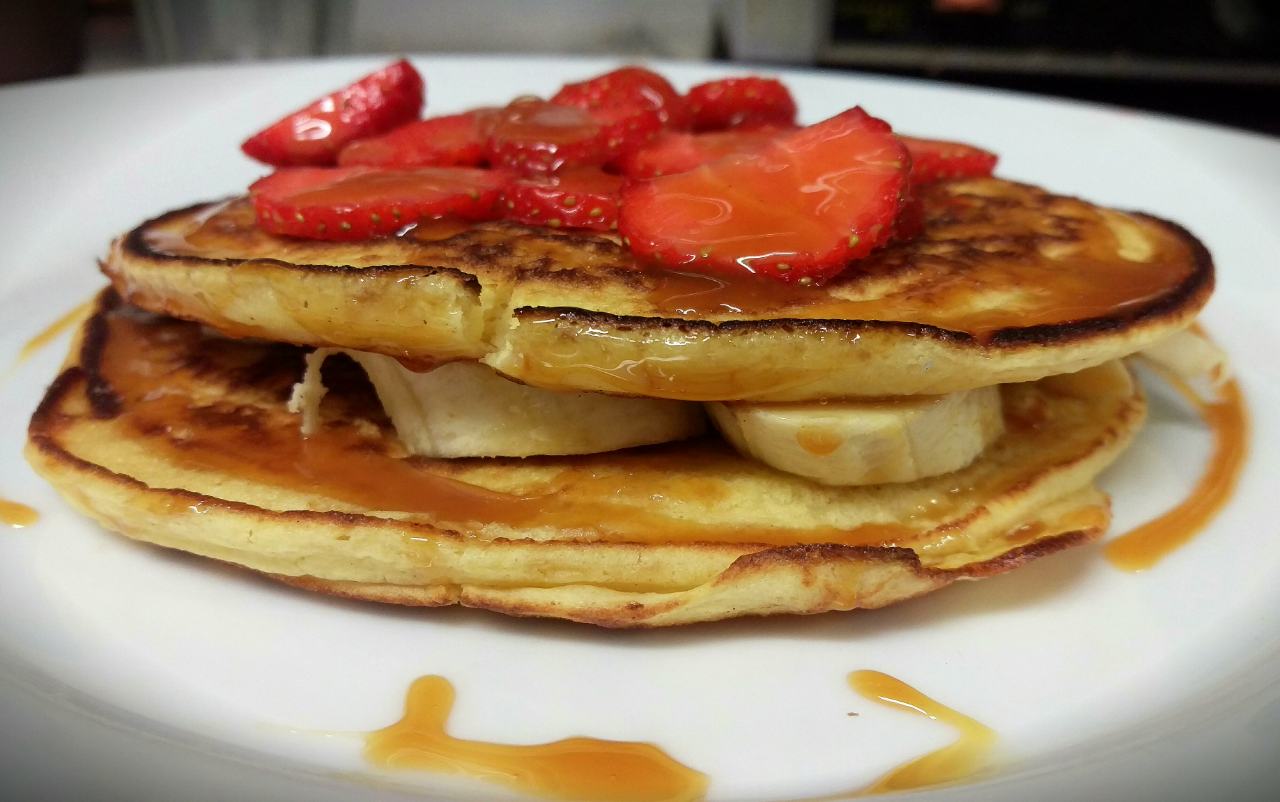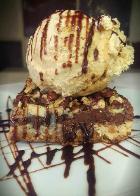 Retail
Our aim is to do our best but if you are unhappy about anything please let us know as soon as possible so we can resolve it for you. If you have any specific dietary requirements, we are delighted to adapt our food to suit you.
If you have any queries or comments, we would love to hear from you.
Email us at: customerservice@stablediet.com
Or phone: 053-91-49012
Or check out our website: www.stablediet.com
Follow us on Facebook and Twitter and find us on Trip Advisor